A Visit to Jerusalem
Written by Clive Abbot.
Yes, New Zealand has its own Jerusalem, and at this time of Sister Suzanne Aubert's potential beautification, it is a very special place indeed. Known as Hiruhārama in Māori, the little settlement of Jerusalem is situated 66km upstream from Whanganui on the banks of the Whanganui River. The Sisters of Compassion were established there by Suzanne Aubert in 1883. You can still see the old church and convent built in 1893.
Today the site is a place of serenity and peace. St Joseph's Church has been beautifully renovated and maintained, and is open to the passing public and tourists. Accommodation for those wishing to stay overnight is available in the old convent, which is a treasure trove of historical information dating back to the work of Susanne Aubert and her companions and successors in the riverside communities. Numerous books, documents, posters, photographs and artefacts are available in the church and convent providing inspirational reading and study for anyone interested in Suzanne's work at the mission and throughout her life. In addition, there is much of fascinating interest about the life and times of the Whanganui River as a world renowned transport and tourist route in the late 1800's and early 1900's.
A beautiful feature of the nurtured gardens adjacent to the old church is a set of twenty paintings depicting the mysteries of the rosary. We were delighted on our recent visit to witness the return of these marvellous paintings after their restoration. The meticulous work was undertaken by Ted and Patrick from Whanganui whom are seen repositioning the paintings in the accompanying photos.
My wife and I have had the privilege of making two short stays at Jerusalem over the past five years. It is a wonderful place for personal peace, rest and contemplation. It is also a time to spend in admiration and gratitude for the early missions or mercy and discipleship, embodied in Suzanne Aubert's example of bravery, perseverance and compassion to help all in need.
We heartily recommend individuals, couples or groups looking for a spirit filled place of historical significance to New Zealand, and particularly for Catholics, to visit Jerusalem and find a place away from daily distractions. Road access is easy from Whanganui or National Park Village via Raetiti. Comfortable accommodation for 22 people is provided mainly in dormitories, with limited private rooms. Good facilities for self-catering are available. Bookings can be arranged by calling (06) 342 8190 or emailing [email protected]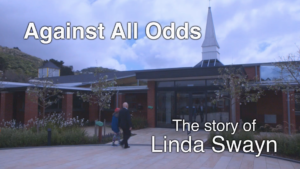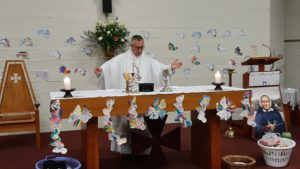 ---