Great support for new Suzanne Aubert Resources
A series of publications promoting the spirituality and good works of Suzanne Aubert were launched at the Home of Compassion in Island Bay in April.
A large gathering turned out for the launch which was held in the Centre's new Lyon Room, a beautiful new facility purpose-built for seminar and conference use.
The authors of two of the publications, Merrilyn George and Kilian de Lacy were on hand to address the gathering, and spoke of Suzanne Aubert's ongoing inspiration in their lives and work.
Kilian's book, entitled Seasons of Reflection, is a series of short meditations on the writings of Suzanne Aubert.  Set Apart, Fibre artworks by Merrilyn George features a stunning series of textile artworks inspired by the life of Suzanne Aubert. The quilts in the book have been exhibited in various places in New Zealand and will be exhibited in Suzanne's home town in France next year.
Another resource to be launched is a beautifully-illustrated book of Suzanne Aubert's Spiritual Tonics, a selection of her thoughts and reflections which provide a window on her vibrant spirituality.
A map providing an historical tour around Suzanne Aubert's Wellington te Whanganui-a-tara has also been produced. Wellington was very much Suzanne Aubert's city and the map shows the places in Wellington that were of significance in her life and mission.
Suzanne Aubert's Cause for Sainthood is currently being considered in Rome and, if successful, she will become New Zealand's first saint. The publications have been created to develop greater awareness of the life of this extraordinary woman and her heroic life of compassion.
Sister Margaret Anne Mills, congregational leader of the Sisters of Compassion, is delighted with the new resources which she said were all about focusing attention on the life and example of Suzanne herself.
Copies of the resources can be purchased using this order form . They are also available from the Home of Compassion, Island Bay. For more information contact [email protected]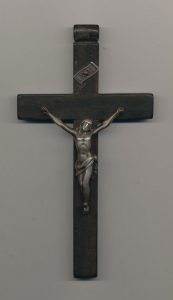 ---