KIWI'S INVITED TO FOLLOW IN SUZANNE AUBERTS FOOTSTEPS
Catholics throughout the country are being invited to consider going on pilgrimage in New Zealand and retrace the footsteps of Venerable Suzanne Aubert.
Sunday October 7 marks the 3rd annual Celebration Day for Venerable Suzanne Aubert in in all Catholic churches throughout New Zealand.  On that day parishioners will be asked to participate in celebrating the 'spirituality and good works' of Suzanne Aubert and to pray a special Prayer of the Faithful at Sunday Mass. Parishes have also been asked to play a specially prepared 5-minute video that introduces the idea of making a personal pilgrimage in New Zealand by retracing Suzanne's own footsteps throughout Aotearoa New Zealand during her the 66 years she lived in this country.
The New Zealand Catholic Bishops says, "there is a growing realisation of the great spiritual benefits and uplift of the soul when we go to a place where a saint or a person of great depth, lived and walked and shared the gift [of faith] that they had been given. Pilgrimage is something that can start today… we don't need to wait for the formal process of beatification and canonisation to take its course."
As a migrant from her native country of France, at 25 years of age, Suzanne spent 3 months travelling to New Zealand on a whaling boat so that she could answer the call of Christ: the call to serve the Māori, the sick, the orphaned, the elderly and those whom society rejected. She travelled extensively throughout the country, becoming fluent in Māori and establishing a rapport with the tangata whenua. Her charism was care of the vulnerable wherever she encountered them and led her to establish NZ's first soup kitchen and other core services at the turn of the century including orphanages for abandoned children, social care of single mothers and the disabled, a hospital for the sick and hospices for the dying.
Suzanne's wairua of care and compassion lives on in the only permanent New Zealand established religious order, the Daughters of Our Lady of Compassion. The work of the Sisters today continues in Suzanne's pioneering footsteps through the soup kitchen that still serves almost 40,000 meals a  year, their engagement in social work, pastoral care, prison and hospital chaplaincies, education, working with disadvantaged, migrant communities, and care of the sick and the elderly.
Pope Francis officially declared Suzanne Aubert Venerable in January 2016 and her journey to sainthood continues as the New Zealand church explores the recognition of her intercession in a miracle healing.
Sister Margaret Anne Mills, the congregational leader of the Sisters of Compassion has invited any one who would like go on pilgrimage to consider visiting the final resting place of Suzanne Aubert which is now a beautiful crypt in Island Bay. "Everyone is welcome here at Island Bay, the final resting place of Venerable Suzanne Aubert" she said, when suggesting that going on pilgrimage to a place where Suzanne lived and worked was something all Catholics might like to consider while we wait for the church to officially recognise her as a Saint.
To help people plan a pilgrimage and learn more about the 24 places around New Zealand where Suzanne lived and worked, a special digital pilgrimage map has been created on the website (www.suzanneaubert.co.nz) and there is also a downloadable map guide.
It is hoped that many more New Zealanders will learn of the spirituality and good works of Venerable Suzanne Aubert and in doing so, see her as a leading light in the establishment of social welfare in NZ and a wonderful example to follow.
For more information on the Footsteps through Aotearoa New Zealand campaign, contact the National Convenor John Bergin ([email protected]) or Sister Josephine Gorman, the archivist for the Sisters of Compassion sr.josephine.go[email protected]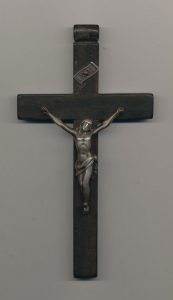 ---