National day of celebration marks Venerable Suzanne Aubert's progress to sainthood
The Sisters of Compassion and the New Zealand Catholic Bishops Conference have announced the first Sunday of October as a day of celebration for the Venerable Suzanne Aubert.
Suzanne Aubert was the founder of the Sisters of Compassion, New Zealand's only home grown order of Sisters. Last year, Pope Francis declared Suzanne Aubert 'venerable' – the second formal stage on the way to being declared a saint. If Suzanne Aubert's Cause for Sainthood is successful, she will be New Zealand's first saint.
The New Zealand Bishops commented, "kiwi culture readily celebrates its sports heroes and sometimes its arts and music high achievers. Suzanne Aubert's gutsy life focused solely and relentlessly on the needs of others helps us also to celebrate a radical life of practical faith." He went on to say, "Mother Aubert's life shifts holiness onto our streets and fields. Hers is a gumboots on sleeves rolled up type of saintliness that resonates in this country and we are seeing increasingly overseas too with growing interest in her Cause in France and parts of the Pacific."
Last year marked the 90th year since Suzanne's death in New Zealand after dedicating 66 years of her life to living among, learning from and walking alongside Maori as well as caring for the most vulnerable in society. To commomorate the 90th year, the inaugural  cekebration day was held nationwide on October 2nd. It will now become an annual event.
As a young adult, Suzanne Aubert chose to leave her native country of France and spend 3 months travelling to New Zealand where she served the sick, orphaned, elderly and those who society seemed to not notice.
She established New Zealand's first soup kitchen that still serves almost 40,000 meals a year. She established orphanages for abandoned children and provided care for the handicapped, the sick and the dying. She was a pioneer of New Zealand's health and welfare system and a friend to Maori throughout her life.
Her wairua or spirit lives on in the work of the Sisters of Compassion.  The work of the Sisters today is very much supported by their co-workers through their engagement in social work, pastoral care, prison and hospital chaplaincies, education, working with disadvantaged, migrant communities, and care of the sick and the elderly.
In 1997 the New Zealand Catholic Bishops Conference supported the first part of the formal process, called the "Introduction of the Cause of Suzanne Aubert".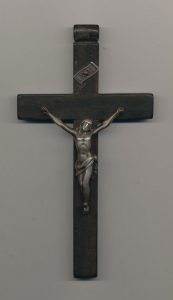 ---