Resting Place of Suzanne Aubert officially opened.
The final resting place of Venerable Suzanne has been officially opened following a beautiful blessing ceremony on October 14. The blessing and rededictaion of the chapel coincided with the125th anniversary of the founding of the Sisters of Compassion.
Hundreds of friends attended the ceromonies which started with a Karakia (dawn blessing) followed by the Mihi whakatau (formal welcome and speeches). Cardinal John Dew lead the Miha (Māori Mass) to celebrate the 125th anniversary of the founding, the rededication of the chapel, and the blessing of the new crypt and final resting place.
When Suzanne Aubert died in 1926 she was buried at Karori cemetery in Wellington. She was moved to Our Lady's Home of Compassion in 1950 and placed in a grave at the foot of the Pietà (a statue which depicts the body of Jesus in the arms of his mother).
In 1984 both the grave and the statue were transferred to different sites on the grounds after the buildings at Island Bay were replaced.
Following the completion of the crypt earlier this year Suzanne was moved to her final resting place, with the newly-restored Pietà just outside the main window.
The Chapel of Our Lady of Compassion which is beside the Crypt and final resting place, has now reopened following the  rededication
This is a wonderful place to pause, reflect, and pray.
The Chapel and Resting Place are open to everyone from 10:00am to 3:00pm on Monday to Saturday and from 12:00pm to 3:00pm on Sunday.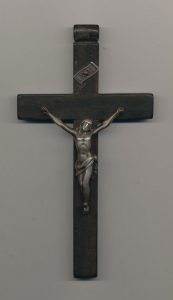 ---