WHY SUZANNE AUBERT IS AN INSPIRATION TO ME – JENNY DOHERTY
After Governor Hobson had proclaimed Auckland the capital of New Zealand in September 1840, 3 young lawyers arrived in the colony on 25 September 1841 to establish the new Supreme Court of New Zealand. One of them was Thomas Outhwaite who became Register General. Not long after Suzanne Aubert's arrival in New Zealand she became a very close life- long friend of the Outhwaite family. In our archives we have many letters written to Suzanne from the family. Mrs. Outhwaite was French and was like Suzanne's New Zealand mother.  In Suzanne's letters to Mrs Outhwaite she addressed her "Dearest Madame & Mama". The family provided on-going financial and practical support to Suzanne.
In Sept 2009 I went to Island Bay to pray for a special intention & I have prayed to Suzanne every day since. I became interested in the Outhwaite family after reading Jesse Munro's biography. When I found the family grave broken and forgotten, I knew I had to do something. Many times I thought it was too hard and I didn't know where to turn. An inner voice would always encourage me and never let me give up. I resigned to this and just let things happen.
I believe that as the Outhwaites helped Suzanne Aubert in life, she has helped them in death. They were influential and significant in Auckland society in 1860 but since they died, they had been forgotten. After the restoration & unveiling of their grave, St Peter's college has named a new 12-classroom block the 'Outhwaite Building'. I believe all this has come about because of Suzanne Aubert. She has repaid them. They are finally recognised in Auckland today & their name is once again mentioned.
As Suzanne Aubert said in one of her letters…. 'Whose work is it? Surely not mine.'
It is very exciting to know Rome is once again concerned with Mother Aubert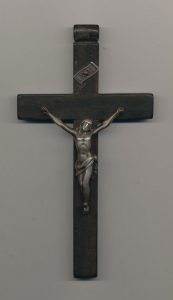 ---